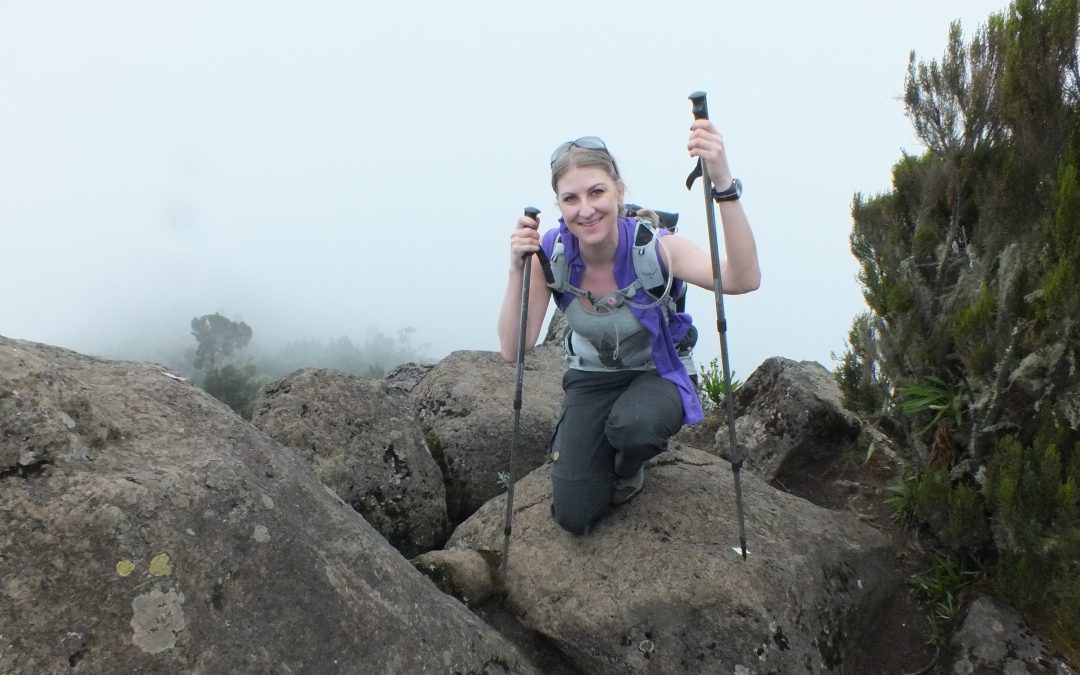 Ditte is a 3-times Refuga participant, who is always very liked by the other participants for her smiles and her (extreme) energy level. Ditte is a very young CEO in a very conservative industry. She runs KFS Boligbyg, a construction company in Denmark that builds houses. The company has 60 employees and she took over the company from her father just in the middle of the financial crisis and had to do a turn-around.
Ditte is really not the type who tries to fit in, she is the type who stays true to her values and live after those more than after what other thinks is right or wrong. In the construction industry, working remotely some of the time isn't normal at all. Still, Ditte values traveling and besides Refuga trips, she travels a lot. Right now she is visiting me (founder of Refuga and my girlfriend) here in Malaysia. We're working remotely, going on small adventures and just having a good time.
I wanted to use the chance, to ask her a few questions and share them with you here. Ditte is super inspiring and has an extremely proactive mindset, that represents the kind of people who normally go on Refuga trips, really well.
Here is a small conversation with Ditte, where she shares her thoughts on working remotely, the value of traveling, overcoming big challenges, why it helps her being active and her tips for building great relationships.
Without further ado:
3 years ago you joined our very first trip to Kilimanjaro. How did you find out about Refuga and how was that trip?
It was a weekend afternoon. Actually, I had a bit of a hangover after a Christmas party with the company. My ex and I had talked about Kilimanjaro and at that time, I had a boyfriend who is not really the adventure-type. It's very seldom I surf around online, but that day I saw a post on LinkedIn from my old classmate, Steffen, about the Kilimanjaro trip with Refuga. I had a look and it didn't take me many minutes before I had made up my mind. It has been a bit messy for me in life and maybe that's also one of the explanations why I made my choice. Since I'm not a big sports person, it was also a little challenge in that way, which I liked too.
The trip… this is more difficult to describe in words. Steffen was the only person I knew on the trip, and we hadn't talked for approximately ten years. The experience was unforgettable and I learned so much. Several of the participants have become close friends and I made more decisions in those 7 days than I normally do in half a year. Maybe it tells something about my normal level, but anyway.. 🙂 one thing I really liked was being together with a group of new people – Everyone was new to the group and everybody shared what was good and what was bad in life. Many deep and meaningful conversations took place that week.
You're a young woman who is a CEO in a very conservative industry and you're leading people much older than you. What has been the biggest challenges for you over the years?
This is difficult because there has been many. But… the biggest has been – and still is – getting my brain and my body to accept that I don't have enough time to make a difference for as many people (colleagues, customers, friends, and family) as I wish I could. I love people and it makes me happy making a difference. I have that gift and challenge, that I can feel people. I say to myself that I have to let things go – while taking care of myself first, is still difficult. But I feel thankful. A lot actually! Having so many clever, passionate and high-performance people around.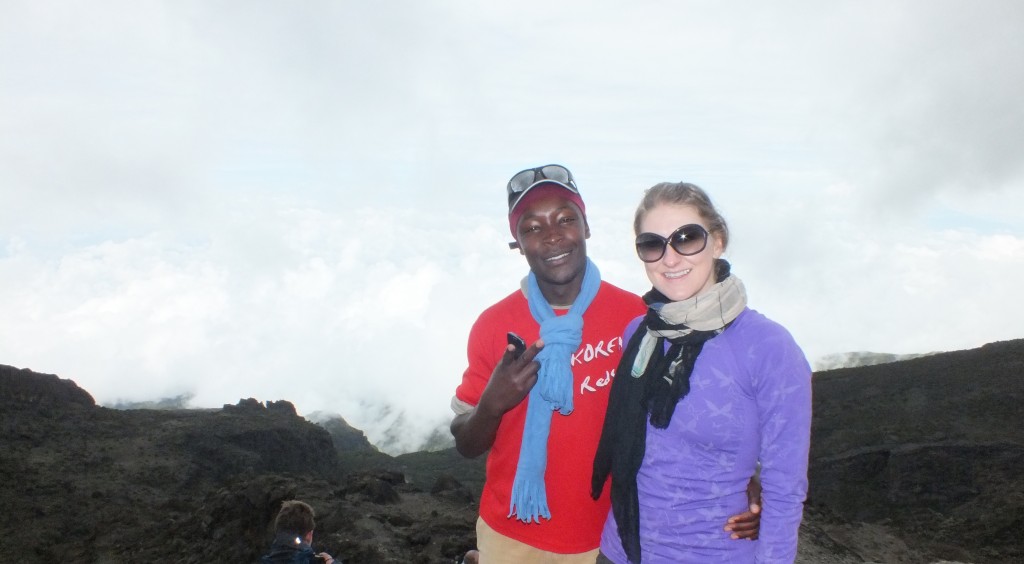 Ditte on Kilimanjaro with Paul, who is always one of the guides on our Kili trips. Kilimanjaro was Ditte's first Refuga trip.
When you took over the company it was just in the middle of the latest global financial crisis, which was very tough for all construction companies. You've since then made a huge turnaround. What did you learn from that?
That must be that happiness is not about doing great or bad in business. There is nothing like a crisis that can get people together and remind us about what's really important. I've also learned that it's impossible to have time to get everything done. You have to focus on what's important and accept that you have to let other things go.
We know you as a person who loves being active, doing sports and small adventures. What does being active like that give you as a person and what can you use from that in your work?
Doing something else and being active is where and when the good ideas come to me. I call it time for reflection. It's a time where I'm not online. It can be difficult always to make the best priorities and sport and adventures help me a lot. I also love people and their different stories. Those I get when I make small adventures. Meeting people. Inspiration is also an important point. And taking care of the body and mind is more important than all the company work. Actually, I have often reflected, that to go for a run was better than working, because afterward the work is done quicker and better. So it is a win-win. Another thing is, that my brain gets so many ideas all the time and sports is a way to get tired physically and controlling my brain.
You're trying to combine your work with traveling. You're a lot away from the office but still manage to get a lot of work done. What challenges comes with running a company with a lot of employees and working out of the office?
Actually, I am more productive when I'm not in the office.  For me, it is necessary because of my own balance and I know that my own well-being is important for the company too 😉 It is also my job to create and develop the company strategy, and that happens when I am not doing everyday tasks. It is interesting to think about, that I can do over 80% of my normal job from distance. All the stuff is on the computer today. My experience is also, that my colleagues make good decisions themselves when I'm not there to answer questions the whole time. My biggest challenge with working remotely like that is that I need to think less about what everyone else thinks about it. Not a lot of people in my industry thinks like this, so a lot of people think it's a bit strange.
Ditte is currently in Malaysia visiting us. We we're invited to visit Openminds, an agency, where the 3 founders has signed up for a future Refuga trip. Ditte did a small talk for all 30 employees about her story. 
When you're working away from the office like you're doing now in Malaysia, what does that give you?
It gives me time, where I can decide for myself what's important. And I can get a lot of work done because there are not other obligations and everyday-stuff that I need to take care of. I can do a lot of sports and that helps me focus and stay sharp. Also, the warm weather is also good for my body, and being together with good and inspiring people gives you something you can't buy for money. It's a good way to do some more deep work and get to the bottom of some projects, email etc. When traveling my brain just naturally starts thinking differently and that always gives me some ideas for the company and our strategy. It's very difficult to measure these things in value. Also, when being away I'm not only thinking about the strategy for the company, but it's also a good break and setting to think more about my own life strategy.
Can you give a few tips for people who are running companies with a lot of employees on how to travel more?
Just take one small step at a time. Teach yourself be productive both when you are home and when you are out. You really have to be aware of your time and how you spend it, but that takes practice. Another thing that works well for me is talking about it. As mentioned, traveling and being away from the office is very strange in my industry, which is quite conservative, but talking about it and explaining to friends, family, and colleagues, why I do it and what it gives me, really helps a lot. If you're too concerned about what other people think about you working remotely, it will limit your freedom, so you have to let go somehow.
You've been on 3 Refuga trips now. Can you tell us a bit about the people you have met and the relationships that have come from the trips?
I now have a network of passionate people who love that combination of work, deep discussions and adventures, which I'm totally in love in. I try to contribute to the community by inviting people to my home for small work weekends, which I've had 3 times now. I have had people from Refuga trips from multiple countries visit me in the northern part of Denmark.
There is no doubt that you're a person who is great at building relationships with a lot of people. Can you give us some tips to getting a bigger and better network, both professionally and personally?
Be helpful – never fake it. Try to find people who share your own values for life – those relationships can last for many years.
You've been through a lot of difficult times, a big turnaround of the company, stress and a divorce. Still you're one of the happiest people we know. What do you think is important to be happy?
It's the way you look at things. Many people feel that thay have no choice and they build up a lot of mental blocks – but we always have a choice.
You can find more information about KFS Boligbyg here, on LinkedIn and in this article (in danish)./