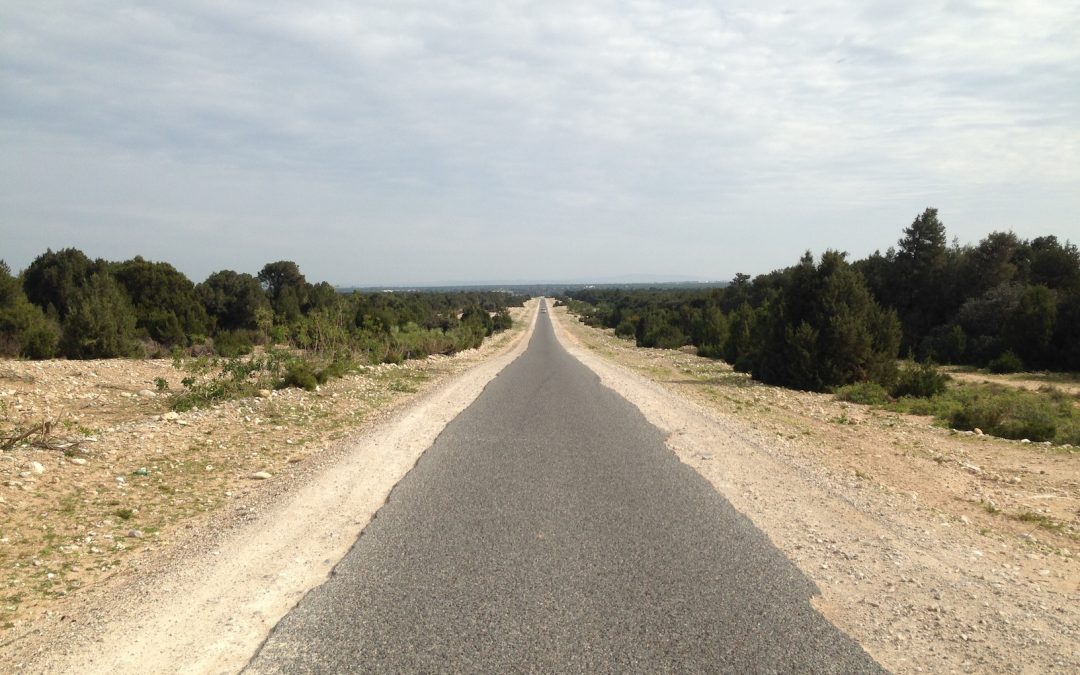 I love transparency and I love that more and more startups are being extremely transparent. I think it's a great development, that will hopefully grow.
But it's easy to just think this is a cool movement or development. You have to try it, to experience the pros and cons personally. I've tried to be very open the last couple of years. I did that via my personal blog and social media (all in danish, so won't add links). My experience is that there are both pros and cons when it comes to being very open and it's difficult to say if it's worth if.
Last year I shared the complete story of a company that I was a part of, where we stopped the project. A failure and defeat. I experienced that my existing network (not those close to me) thought a bit less about me. I got the feeling that I was not that big a part of the established community any more. But I also got contacted by a lot of super cool people, who appreciated that I shared my story. So there were pros and cons. But the best thing about, was the feeling of being completely open and not having anything to hide. That feeling was in the end the reason, why I thought it had been worth it.
So, I'm still a big fan of being transparent and I want to bring that to Refuga, so here is a report of some of the numbers behind Refuga in Q1 and my focus for this month (April). I don't know if this will be something I will do on a regular basis. I'm just sharing now, because I feel like it.
There is a few things I would like to mention, before jumping to the numbers: Please have in mind, that Refuga is an extremely small project so far. I've only considered this as a real startup for a little less than 5 months. The same period that I've worked more or less full-time. Also have in mind, that I'm still tweaking and adjusting the concept, so I'm not focusing on scaling big yet. The numbers you will find are small – I know that – but given the history, time spent and the phase that the project is in, I'm pretty happy about them.
Q1 2015 report: Check out revenue, traffic, social media and more numbers of @refugacamp CLICK TO TWEET
Q1 report: Let's look at the numbers
Newsletter
Last year I didn't work with newsletter at all. I had quite an OK list, from a competition I did once and I know how much it's worth, so this has been a big focus. I wanted to test a lot of things, so get as many visitors converted to the newsletter. It's my focus to get new visitors to convert to the newsletter, because it's easier to sell a trip via that, than a first time visit to the website.

This is the graph from Mailchimp. The numbers from Feb 2014 is from the competition I did, when I wanted to do the first international trip. What you can see from December 2014 to March 2015, is the improvements made to the site, to get people to sign up.
Total signups in Q1: 1.515
Total signups: 3.502
Opening rate: 30%
Conversion (from website visitor to email signup) Q1: 9,3%.
The numbers are getting better and better and we have an average of 25 signups per day now. My first goal is to get that to 75, which I think is very realistic. I'm really happy about the conversion rate and I think it's time to focus on getting more traffic (hasn't been a focus at all really).
The opening rate is also becoming better and better. This has been pretty crap, since the competition last year gave a lot of signups with low quality. I think I will soon clean the list and remove everyone who hasn't opened the newsletter the last year or something like that.
I'm gonna do another post about the newsletter, with insights about what works and what doesn't, which pages they come from, which traffic sources is best for Refuga etc., so I won't go into more detail here.
Social media
Social media is extremely valuable for Refuga. It gives a lot of traffic, signups and people buying trips. Refuga marketing is all about social media and the strategy behind is something like: "hack it as much as possible to get new, relevant followers and then do a great community management job". I will also do a post about this at some point, so here are just some overall numbers:
Facebook
Facebook likes total: 5.208
Couldn't find an exact number for Q1 in the insight section on Facebook. Let me know in the comments, if you know how to find this.
We use Facebook a lot, because the combination of text, pictures and video give a chance to really build a community. My hope is to get followers from other platforms to also follow us on Facebook, because we communicate the most there. It's just difficult to be really engaging on a lot of platforms.
Twitter
Twitter followers Q1: Approx. 1.990
Twitter followers total: 3.826
Twitter is awesome, because it's so easy for people to share. Most of the bloggers and journalists who have written about Refuga, found us via Twitter. Also, it gives around 75 signups to the newsletter per month.

Instagram
Instagram followers: Approx. 11.800
I don't have the number for Q1 followers, but it's around 8-900 new per month or something like that. I like Instagram, because Refuga is a visual "product" and Instagram is perfect for that. We also get around 80 email signups per month from Instagram and two of our first international participants found Refuga via Instagram. I think that's pretty cool.
I've also experimented a bit with Google+, which I personally like. I haven't done a lot yet, but we almost got 3.000 followers. My experience is that the quality of the followers is lower than the other social platforms and I don't know yet, how great it will be – BUT, it's very, very easy to hack.
Website visitors
The traffic on the website is growing pretty well. I'm pretty happy with the numbers, because there are only 67 pages indexed by Google (= there is not much content yet) and I almost don't spend money on marketing (only a bit on Facebook ads, mostly retargeting). Here are the numbers: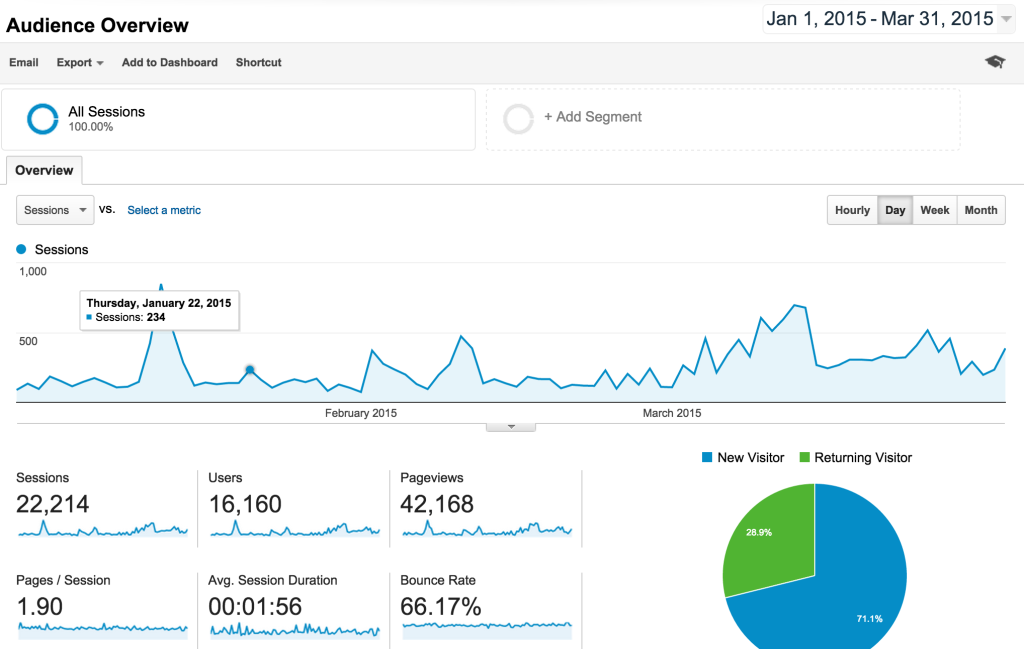 As mentioned, I'm pretty happy about these numbers (note that this is from all months in Q1). Getting traffic hasn't been a focus at all, so this is something I will soon get really focused on (working more with content etc.). These number with a very little effort, gives me comfort that there is a great potential in growing the numbers.
The bounce rate and avg. time per session are not great numbers. There is a lot I can do to improve these numbers. I try to develop each trip landing page as a small world on it's own and not just another product page, so that's a part of the reason. I can absolutely do a better job in getting people from the front page to trip pages. This will be the first thing. Other focuses will be getting people from the blog to trip pages and people visiting a trip page, to visit more trip pages.
I can't wait to really focus on this. There is so much that can be done!
Q1 2015 report: Check out revenue, traffic, social media and more numbers of @refugacom. CLICK TO TWEET
Applications
All trips is on an application basis, meaning that you have to apply to get a spot. We like diversity and we're extremely open, but of course you have to have something to offer the rest of the group to join. This is not done to be snobby, but to get participants who really want to join and to ensure the best experience for everybody. It's really a difficult balance and I've had different ideas about removing or making it more difficult to join, but I actually like how it' works now.
Total applications in Q1: 79
Sold spots in Q1: 53
Refused in Q1: 6
So there have been 20 people who applied but didn't end up as a confirmed participant (by paying). This is something I will work a bit on to improve, because there is some obvious potential (to get more participants and to waste less time). The first thing I will do, is to offer to book a 15 min clarifying Skype meeting to everybody who applies. I think what is holding people back, could easily be addressed in a short call, so I will experiment with this. The first meeting has already been booked 🙂
Maybe at some point, the whole application and payment flow should be redesigned. One idea could be people to confirm their application by typing in their credit card information. The deposit shouldn't be drawn from the card before the application is approved, but this is something that could remove those unserious applications, that will never end up paying anyway.
Paying is not a positive thing, so I think it's important that people do this when they are most engaged and I think they're more likely to pay when they apply, but it's just a theory. The negative thing could be missing those, who want to join and applies, but who has some questions and are not 100% ready to secure the spot yet. It's something I will test.
Only 0,37% of the site visitors apply for a trip. Comparing to e-commerce this is extremely low, but I'm unsure what to think about it. I won't expect this to sky rocket, because it is a big decision to join a trip and not just like buying a t-shirt online, but I'm sure this can be a bit better.
Should we talk about money too?
Of course we should.
In Q1 the total revenue has been a $48.370. The number is not 100% precise, because my company is danish and therefore my accounting system is in danish kroner (some of the the trips are sold in DKK, because they're all danish), so I just used todays exchange rate.
My goal for the year is around $215.000 (or 1,5 mill DKK). There are more trips in the fall than in the beginning of the year, so I'm pretty sure I will hit that.
As mentioned in the very beginning of this post, I know the numbers are low. But let me remind you, that Refuga hasn't found exactly the right business model yet. I'm getting closer, but it's not 100% there and I'm not completely ready to scale.
I won't go into talking about profits. I can survive and travel the world with my girlfriend. At the same time there is enough cash and the cash flow is pretty good, so I'm able to invest in testing, improving and growing organically.
Overall, I'm pretty happy about where I am after just under 6 months full-time and I'm very excited about the future. The to do list is long 🙂
Focus for April
The last months I've tried to launch an alpha version of making Refuga "open source", meaning that other people should be able to do Refuga trips. I've recieved over 30 applications for being a Refuga Organizer (via this page). The concept is simply not ready yet, but it's been extremely valuable to communicate with these people and it's given me a lot of ideas on how the concept could look like and I'm a step closer to the right solution for scaling Workaway.
For now, I have removed the page from the menu on the site and will work more on an improved solution. The alpha stage has resulted in 2 partnerships, where I get other trip leaders, so that's great.
The whole business idea behind Refuga is to do a lot of trips and to use the "capacity" of each location / setup we have as much as possible. It takes time to find and setup great trips, so when that work is done it's get more and more interesting for each trip we can do to each location. My overall goal for April is to sign contracts with external partners about using Refuga's setup for doing trips in their own brands.
Selling more trips, even though the trips are not in the Refuga brand will of course be good business, but also mean that I can make better deals with suppliers. I will spend a big part of April on this and my goal is to make contracts worth around $70.000 this months. I got a good pipeline on this and expect the first two contracts to get signed in this week.
This will mostly be a test for this month, so I will conclude something after that.
Q1 2015 report: Check out revenue, traffic, social media and more numbers of @refugacom. CLICK TO TWEET
Let me know in the comments if you have any questions at all. I would also love to hear what you think about this kind of reports, so I can get an idea if it's something I should continue doing.